The IMAA Victim Services program provides culturally sensitive, bilingual direct service to refugee and immigrant victims of general crime. The victim service program is funded by the Minnesota Department of Public Safety-Office of Justice Program.
We believe in treating each client with dignity and respect. We provide a welcoming, comfortable, and secure environment for all our clients who need help.
Support through the healing process
Assistance with navigating the criminal justice system
Services We Connect Clients To
Professional Counseling and Therapy
Food, clothing, transportation, child care services, and more
Bilingual Counseling and Intervention
Assistance in filing reparations
Personal advocacy through the criminal justice and/or medical system Emergency Financial Assistance (for eligible clients)
January is Human Trafficking Awareness Month
Human trafficking is the trade of humans for the purpose of forced labour, sexual slavery, or commercial sexual exploitation for the trafficker or others. There are an estimated 20.9 million victims of human trafficking, and it is the 2nd largest and fastest growing criminal industry in the world, behind drug smuggling. The best way to combat this issue is by educating ourselves and our friends, family, and community.
Join IMAA on January 21 to learn more about human trafficking and the warning signs that someone is a victim of human trafficking. Contact Nisha Kurup at nisha.kurup@imaa.net or (507)-289-5960 ext. 110 if you have any questions or interested in attending.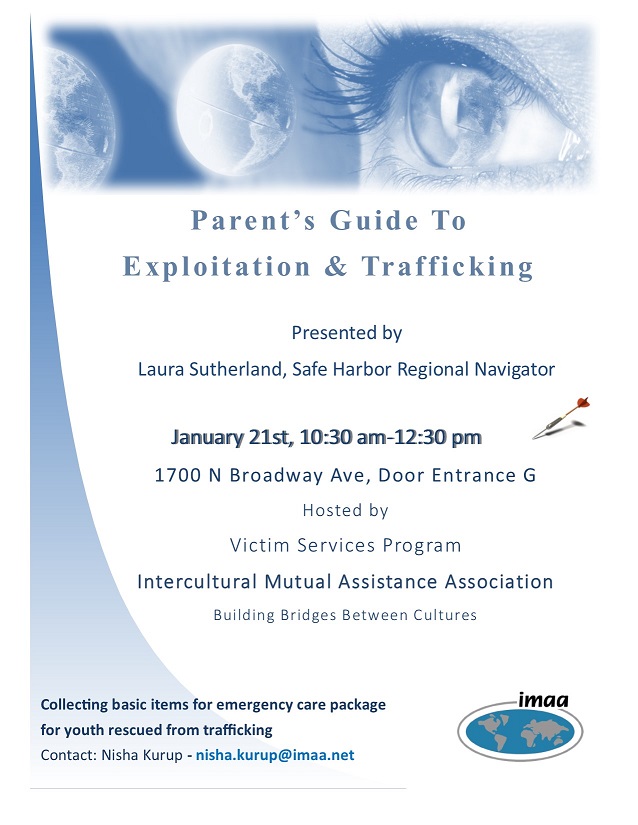 IMAA is collecting items for emergency care package for youth rescued from trafficking. Any donations are appreciated, and items can be dropped off to the front desk at IMAA. The following items are needed: chapstick, nail polish, shampoo, soap, deodorant, wipes, toothpaste, toothbrushes, chocolates, snack/energy bars, fruit snacks, gum, socks, mittens, hats scarves, t-shirts, sweatpants, pens, notepads, crayons, and youth coloring books.
If you are interested in volunteering with IMAA's Victim Services Program, complete our volunteer application.
Donate Today!
We need your support to be able to continue what we do.
Have questions? Contact us today!
Get In Touch
Address: 2500 Valleyhigh Drive NW, Rochester, MN 55901
Phone: (507) 289-5960
Fax: (507) 289-6199
Business Hours: 8:30a-5:00p M-F